Ladies Night for Women in Engineering Sciences am 20.04.2017
02.02.2017 -
The Ladies' Night for Women in Engineering Sciences is part of an OvGU lecture series to support young female scientists with a focus on women's career paths. The event was initially brought to life by the Faculty of Process and Systems Engineering (FVST) and the Student Council of the Otto von Guericke University Magdeburg (OvGU) in 2012 as the FVST Ladies' Night and began with approximately 20 participants.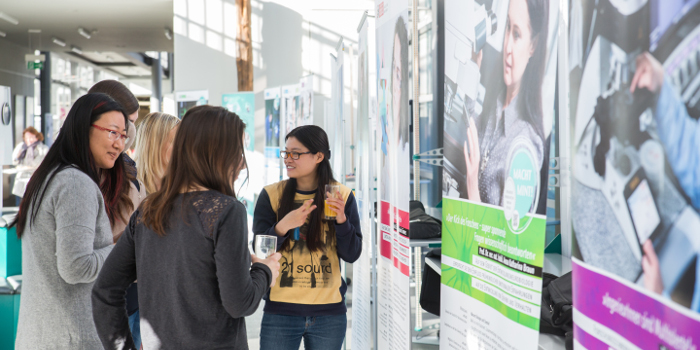 Today, the Ladies' Night for Women in Engineering Sciences accompanies the Career Day for Women in Life Sciences, which has been taking place annually in Magdeburg at the medical faculty and the Leibniz Institute since 2014, with contributions from the engineering field of the MINT subjects offered at the OVGU.
The event is primarily targeted at female students, PhD candidates, and young scientists in the engineering field of the MINT disciplines. In total, three female speakers will present short lectures on how they themselves can be successful in their profession and in their self-efficacy without losing out on work-life balance. A career market enables participants to receive information on career paths and funding opportunities within the university environment. In parallel, a small job fair offers the opportunity to gain direct contact information to companies, therefore becoming acquainted with various non-university career paths. In a subsequent panel discussion on "Prospects for Young Scientists", the panel's participants' personal experiences and impressions can be evaluated.
Information:
Schedule
Starting at 15:00 Career Market and Job Fair
16:00‐16:25 welcome notes by the event coordinators as well by guest speakers (Prof. Dr.‐Ing. D. Thévenin, Prof. Dr. G. Warnecke, State Secretary E. Koch‐Kupfer)
16:30‐18:00 30‐minute presentations (Dr. A. Klippel, Prof. Dr.‐Ing. S. Mostaghim, Bettina Kretschmer, CONTALL Container‐ & Behälterbau GmbH, Zörbig, and the VdU Federal Government Board)
Starting at 18:00 Career Market/Job Fair and Catering
18:30‐19:30 Panel discussion "Prospects for Young Scientists"
Starting at 20:00 Band muMPItz
approx. 22:00 end of the event
The presentations will be held in English and German. Die Vorträge werden in englischer und deutscher Sprache gehalten. Childcare will be provided. Please RSVP ladiesnight@ovgu.de
Career Market
OvGU Equal Opportunity Office
OvGU Family Office
Coordination Center for Women and Gender Research
Exhibit by the OvGU (Doing MINT; Smart Minds and no Children?)
OvGU MINT department's Poster Prize winners and undergraduates laureates
Presentation of the coaching/mentoring programs as well as the Zukunft Feminin and FemPower programs
Media, communication, and marketing at the OvGU
OVGU Career Center
International Max‐Planck‐Research‐School
Psychosocial Student Counseling from the Student Union
FVST Student Council
OvGU Technology and Start-Up Center
OvGU Micro-Macro Research Training Group
Association of German Engineers – Women in Engineering Professions (VDI-FIB)
Association of German entrepreneurs (VdU)
Graduate School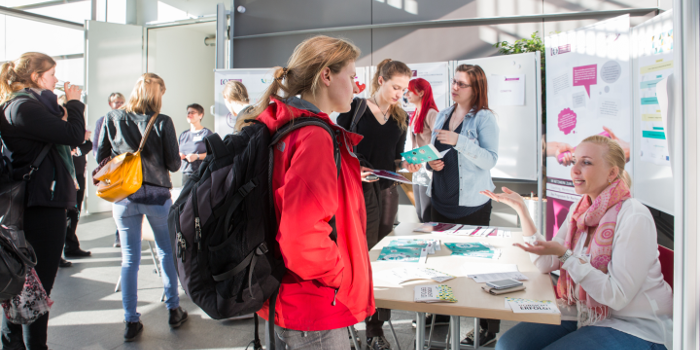 Job Fair

Solvay, DOW, IBM, IFA
| | |
| --- | --- |
| | |
| | |
| | |
Event Location

Max Planck Institute for Dynamics of Complex Technical Systems, Sandtorstr. 2, 39106 Magdeburg.
Would you like to be an exhibitor? No problem, please contact us: nicole.vorhauer@ovgu.de (phone: 0391 67-51684)
Organization
Anna Pretschner, Nicole Vorhauer, Stephanie Geyer, OvGU Career Service (www.ovgu.de/career)
(Photos: Stefan Berger)