Adolf Martens Foundation Poster Award Goes to the Institute for Equipment and Environmental Engineering (IAUT)
16.11.2015 -
At the 12th symposium on "Plant, Labor and Environmental Safety", which took place from 05 - 06 November 2015 at Köthen Castle, the Adolf Martens Foundation e.V. awarded the prize for the best poster to Dr. rer. nat. Ronald Zinke of the IAUT and master's degree students Florian Köhler and Felix Urich (both of the "Safety and Security" degree program) for their poster on "Empirical Pool Evaporative Models, a Suitable Tool for Fault Releases?".
Pool evaporation and boiling are phenomena that can lead to to the development of dangerous vapour/air mixtures when materials are released into the the liquid phase. The poster's authors critically dealt with the calculation methods for evaporation and boiling mass flows used in safety studies.
The Adolf Martens Foundation honors research work in the areas of analytical chemistry, materials research, and safety engineering and bears the name of the first president of the Royal Prussian Material Testing Office, which opened in 1871 and is a precursor to today's Federal Institute for Materials Research and Testing (BAM).
The biannual Köthener symposium has been taking place since 1992 and regular draws over 200 participants, making it the most important meeting in the area of plant safety in the German-speaking community.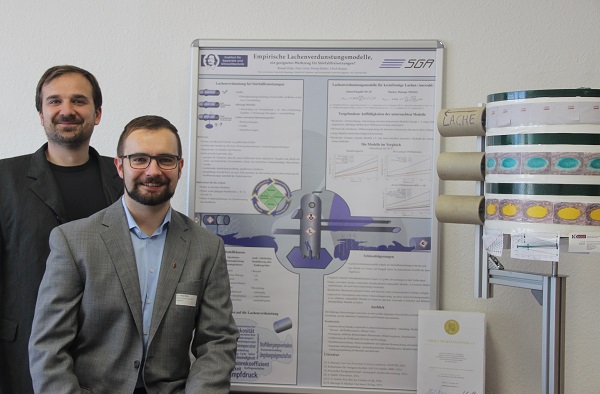 Image source: IAUT The photo shows Dr. Zinke (left) and Florian Köhler.